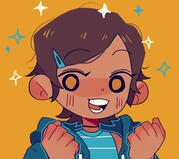 fergie
---
commission status: closed
Commission types
---
Additional Notes
Will Do
Fan art and OCs.

Partial nudity.

Some gore (Blood, decapitation, and such. Nothing too heavy)

Characters with animal characteristics (Ears, tail, or wings, etc.)
Will Not Do
NSFW/Nudity.

Content depicting Pedophilia or Incest.

Mecha.

Furries
Complexity Charge
Prices may change depending on the complexity of the commission request or character design. Characters with additional complex props such as weapons, wings, armor, etc, might affect the final commission charge.
All backgrounds will be plain flat colors.
Terms of Service
---
By commissioning me, you are agreeing to the following terms
Payment
Commissions are not on a first-come, first-serve basis. I will send out an invoice only after a commission is accepted.

Payments must be upfront, and made through PAYPAL invoice in USD ($).

Partial payment can be worked out if the commission is over $150, but the product will not be completed until fully paid.

I will only begin to work on the commission once the invoice has been paid.
Process
Intended deadlines must be stated upfront.

You will be notified when I begin working on your commission piece.

Progress shots will be provided to you for approval before continuation.

Any large adjustments can be be made at the early stages of sketches and coloring, but might be difficult to follow through later on, with a higher chance of being denied. Small adjustments can occur throughout the process, but should be voiced as early on as possible.

Artwork process time is subjective, depending on the circumstances of the artist (i.e. Emergencies, Health Issues, ect.) Unless a deadline was agreed upon beforehand, the estimated time of arrival of any artwork ranges between 1 to 2 weeks.

Due to my health, some commissions might take longer. I will notify you if something ever comes up to impede the given ETA.
Refund Policy
Commissions are refundable in full if you have not been shown any progress shots.

Partial refund is dependent on the amount finished and shown.

No refunds for finished products.

Due to my right to deny or cancel commissions, cancellations at my discretion will be given full refunds.
Artist Rights
I, the Artist, automatically own copyright of any work I produce, unless stated otherwise. As such, all rights to the image remain with me, which includes, but not limited to: Distribution and reproduction, as well as the right to publish, promote, print and sell any artwork I own copyright to.

I have the right to decline or cancel any commission at any time.

I have the right to retract commissioner rights if my rights and copyright are violated.

By commissioning me, the Artist, you are paying for the labor only. There will be no shipment of any physical goods.
Commissioner Rights
Commissioners have the right to use, edit, and share copyrighted artwork they have commissioned as long as my watermark remains visible and credit is given.

The commissioned piece is for personal, NON-PROFIT use only. Mass production or reselling of the commissioned artwork is not allowed.

Any use of the product for commercial purposes, reselling it, reproduction or publishing for reasons other than personal purposes has to be approved beforehand by the Artist. This will require a separate agreement between Customer and Artist defining exact conditions and financial implications of such use of the product.
I have not, do not, and never will allow my work to be used for NFTs.
Customers do not have the right to use artwork created for any and all commissions made by the Artist (at any stage of completion) in any blockchain-related technology, including NFTs, cryptocurrency, or future inventions in the space.
FAQ
---
1) How long will it take for you to finish?
The best estimate I can provide is 1 to 2 weeks. If it seems like that might change, I will notify you ahead of time.
2) How do I commission you?
Click on the "Form" button on the navigation bar at the top, and it should open a google form for you to fill out!
3) Do you draw NSFW?
The most I will draw is a character in lingerie.
4) How can I get an update on the progress of my commission?
You can contact me through my twitter, instagram or email, and I will share my current progress of your commission.
5) Can I commission something not listed, like emojis, avatars, etc?
It would depend on my schedule and skills concerning the commission type. You're free to inquire about it via twitter, instagram or email, but if it wasn't included as one of my offers, then the answer is likely to be no. (Though something like avatars would be more doable, so still free to ask!)
6) Can I pay through another service other than paypal?
As of right now, I do not take any payments outside of Paypal. Though if enough people request it, I might consider another service.